---
Titles
The Professor
The Storyteller
Champion of the Firstflowers
Ajan Warrior of the Forest
---
Quote
"I wish I could be an astronaut and fly. Just fly away to space. Just to see what's there."
---
Warrior Profile
Age: 16
Birthday: April 22nd
Eyes: Brown
Hair: Auburn
Height: 5'1″
Best Friend: Jessica Halloran
Ajan Relic: Trueblossom
Magical Power Sources: Trees, Flowers and Growing Things
Pet: Leafy
Pet Species: Orchid Dragon
Warrior Virtues: Honesty and Compassion
Battle Emblem: An Emerald Quill
Vanguard Colors: Green (Wisdom) Verdant Green (Loyalty) Gold (Generosity)
Favorite Food: Oranges
Favorite Color: Gold
Favorite Music: Chopin
Favorite Flower: Bluebell
Favorite Ice Cream: Emerald Palace Lime
Favorite Pizza Topping: Green peppers
Favorite School Subject: Geology
Favorite Place to Visit: Lakeshore Municipal Library (The one with the arboretum)
Least Favorite Thing: Meeting new people
Year in School: Junior
Band Rank: Assistant Music Librarian
---
Game Level Stats
Might: 31
Brilliance: 92
Insight: 87
Quickness: 29
Will: 40
Charm: 65
---
To say Talitha Casey is extraordinarily intelligent would be a tremendous understatement. Even though she is shy to the point of occasional social paralysis, Talitha is frighteningly sharp and analytical. She often carries one or more books around with her, and looks for any opportunity to find a secluded place where she can read and study.
Talitha's reading comprehension is incredible. She absorbs information effortlessly and has graduate-level skills in philology, linguistics and ancient cultures. She can read and write Latin and French and she has a particular interest in ancient Egyptian history. She is often frustrated by the lack of challenge available to her in even the advanced classes at Tree Shores High School, and she looks forward to attending university as soon as she can.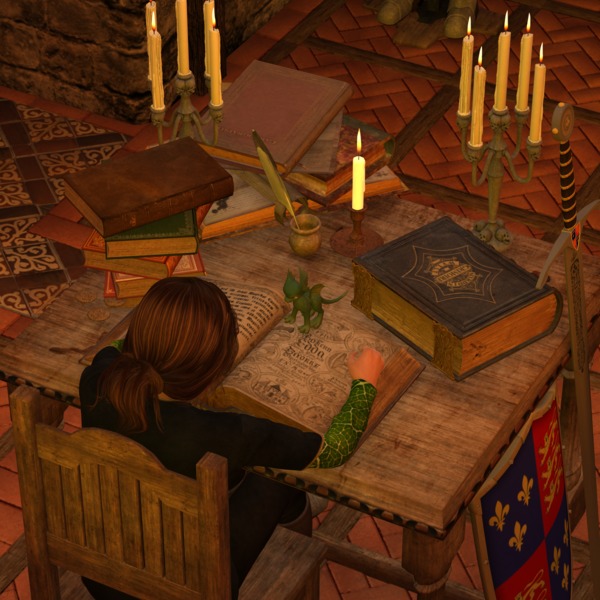 Ironically enough, it is Jessica that helps Talitha become the team's intellectual powerhouse. Once she is confronted by Jessica's exuberance and boundless energy, Talitha quickly learns to adapt her formerly regimented thinking to the more random and fun-loving approach of her new best friend. The two become inseparable at once, and form the exploratory/investigative "battery" at the core of the Ajan Warriors. Jessica comes up with ten new ideas, Talitha picks the one that makes the most sense.
All of Talitha's warrior powers are geared to defense and healing. Legend has it her relic Trueblossom is made of heartwood and is an aspect of the first tree to grow in Goldenwood. In both shield and ring form, Trueblossom is literally alive and emanates life-giving energy at all times. This gives Talitha a wide variety of powerful healing spells in addition to a weapon that is impenetrable by magic or blade. Like Dawnsong, Trueblossom cannot be broken by any known force.
Talitha has the ability to communicate with plants, trees and flowers on a primal level. Her sensitivity isn't telepathy, nor can she "talk" to plants. Her intuitive contact with living things is on a more primordial level. That said, if the Forest Warrior is challenged, all living plants nearby will come to her defense. This can be catastrophic for her enemies if she happens to be in a forest or jungle.
In addition to her abilities to communicate with forests, Talitha can also sense and communicate with nearby insect populations, including especially bees, ladybugs, ants, crickets and moths. Jessica isn't thrilled with Talitha's affinity for bugs.
In battle, Talitha will always be found near Jessica, as the two form a symbiotic source of healing and blessings that turns the rest of the warrior team into a more powerful fighting force. More offensively-minded warriors like Ranko, Shannon and Alanna are well aware of Talitha's ultimate value in any dangerous situation, and they will do whatever is necessary to protect her. Unlike Jessica's quicker magic, Talitha's healing powers are capable of treating devastating injuries. The Forest Warrior can also neutralize any natural poison, an ability that is similar to Jessica's power to cure disease. This makes Talitha immune to poison or other natural toxins like snake or insect venom.
The closest Talitha gets to "attacking" an enemy is through the use of her Shelter Blooms. The device on her shield Trueblossom is capable of shifting to different forms. When it is a cinder blossom, for example, any weapon or spell that strikes Talitha's shield will cause a cloud of fiery spores to explode in all directions. Cinder spores have been described as a combination of hot peppers, tabasco sauce, little biting insects and burning embers all at once. They can incapacitate an enemy creature for several minutes depending on how close they get. Other shelter blooms like the Haya Flower can corrode metal weapons, while the sap of the Viperbark Tree can paralyze living creatures.
---
Leafy
Talitha's pet Leafy is an orchid dragon: One of the species in Varcarel and surrounding regions known as "Littlekin." Fairies, intelligent insects, animated plants and flowers and other mischievous creatures make up other kinds of Littlekin communities. They are all of magical origin, and share a wide variety of powers aligned to forests and places with natural energy. Leafy shares many of the characteristics of Littlekin and yet is also a true dragon with all the additional characteristics of those noble creatures.
It isn't immediately apparent why Leafy decided to join Talitha, but so far he has proven to be a reliable source of early warnings when danger approaches. Shannon theorizes it is because Talitha's first act after discovering Trueblossom was to find a supply of mint leaves to feed her new pet. The other warriors generally agree.
Leafy flies like a slow hummingbird. When he is airborne his wings give off a pastel-colored glow. Talitha has invested considerable time trying to learn what all the colors mean. So far she has identified green as "content" and red as "danger." She and Jessica are still working together to figure out the others.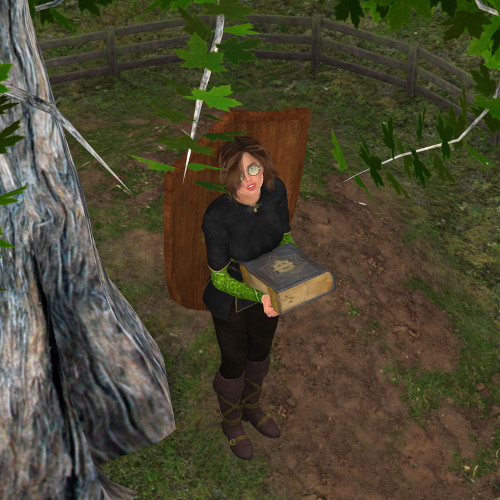 ---
Guardian of Nature
Over time, Talitha becomes more and more concerned with the welfare of green and growing things. Whenever there is an option to spare plants, flowers and trees discomfort, that is the road the Storyteller will take. She occasionally comes into conflict with the other warriors over such matters, and despite her supposedly docile nature, Talitha has been known to put her foot down from time to time. Of course, she often follows such declarative acts with immediate red-faced retreat, but she makes her point.
The Warrior of the Forest will never willingly destroy a living thing, especially those which grow from seeds. Her powers are heavily attuned to the outdoors and they grow stronger in the presence of healthy flora. Talitha has the innate ability to encourage plants and flowers to grow in her presence. This is often a source of considerable inconvenience, as she isn't completely able to control her life-giving aura. Wherever Talitha goes, a trail of flowers often follows. She has been known on at least three occasions to cause a red delicious apples the size of softballs to grow in her hand by simply clutching a handful of seeds. Berries, blossoms and leaves sometimes fall from her hair. She is one of the key reasons the warriors were able to survive their arrival at the Barrotog Stead in Aventar, as she made it possible to grow crops without conventional labor or tools.
---
Shillelagh
Early in their adventures, the Ajan Warriors discover that each of their rings has two alternate forms. Dawnsong, for example, can become both a sword and a musical instrument. Talitha's ring Trueblossom can become both a living shield and a flowered shillelagh.
In shillelagh form, Trueblossom becomes Talitha's walking staff. Although it is a formidable object, the shillelagh isn't useful as a weapon for someone Talitha's size. It is continuously covered with blooming plants, including a dizzying variety of wildflowers. It's primary power in staff form, (which Talitha has not yet been able to replicate in either ring or shield form) is the ability to unlock any door by knocking on it three times with the staff itself. On at least one occasion, this power managed to break open a magical lock.
This unlocking power doesn't seem to work on containers, although Talitha and Jessica haven't quite given up on this idea yet. Jessica is delighted with the idea of a walking staff for her friend, and the two girls have many experiments planned to see if all of Trueblossom's powers are still available when Talitha changes its form from shield to staff.
Naturally, the discovery of an alternate form for Trueblossom has set the rest of the team's sights on discovering the alternative forms of their own Ajan artifacts.
---
Autumn Canopy
Once the Storyteller grows comfortable with her powers, she discovers many affinities with various kinds of trees in the forests of Aventar. Among the species that she gets along with best are the Briarbarks. These are sharp, disagreeable, thorny plants with extremely rugged wood and bark that can help the Forest Warrior accomplish the truly magical.
Many would agree Talitha's most powerful spell is the Autumn Canopy, where she can encourage trees like briarbarks and silvermints to come to her aid if she needs shelter in an unfamiliar land. When the Forest Warrior casts this particular spell, the nearby trees grow new branches and leaves, and wrap new vines and roots around existing plants and natural landmarks until they have created a tiny house in the wilderness.
Inside the little structure, it is always clean, warm and dry, and there is always a source of fresh water available. The door magically locks so it is not possible to enter without permission. Naturally, Talitha is rarely without a relatively convenient source of food, so the successful creation of an Autumn Canopy can provide her and up to five others with shelter for several days if necessary.
---
Battle Strategy
As an accomplished and powerful healer, Talitha can protect and strengthen any of the other warriors. Her natural ally is Jessica, since the two girls' personalities complement each other perfectly and they share powerful abilities like defensive auras and immunity to threats like magical diseases and poisons.
From a sheer combat effectiveness standpoint, however, Talitha's most dynamic comrade is Ranko Whelan. The Warrior of the Storms' unique ability to increase her own attack power and absorb incredible amounts of destructive energy combined with Talitha's almost limitless array of healing spells is a commanding mix. Ranko can cause a variety of damage. Once her battle magic is unleashed, the Crimson Champion is nigh unto unstoppable unless critically injured, and with Talitha nearby, such injuries can be rapidly remedied.
Talitha is similar to Alanna in that she often counsels the other girls to avoid rushing in where angels fear to tread. Of course, if her friends find themselves in trouble, it is frequently the Warrior of the Forest who comes to their rescue.