The Professor
The Storyteller
Champion of the Firstflowers
Ajan Warrior of the Forest
Quote: "I wish I could be an astronaut and fly. Just fly away to space. Just to see what's there."
Age: 16
Birthday: April 22nd
Eyes: Brown
Hair: Auburn
Height: 5'1″
Best Friend: Jessica Halloran
Ajan Relic: Trueblossom
Magical Power Sources: Trees, Flowers and Growing Things
Pet: Leafy
Pet Species: Orchid Dragon
Warrior Virtues: Honesty and Compassion
Battle Emblem: An Emerald Quill
Vanguard Colors: Green (Wisdom) Verdant Green (Loyalty) Gold (Generosity)
Favorite Food: Oranges
Favorite Color: Gold
Favorite Music: Chopin
Favorite Flower: Bluebell
Favorite Ice Cream: Emerald Palace Lime
Favorite Pizza Topping: Green peppers
Favorite School Subject: Geology
Favorite Place to Visit: Lakeshore Municipal Library (The one with the arboretum)
Least Favorite Thing: Meeting new people
Year in School: Junior
Band Rank: Assistant Music Librarian
To say Talitha Casey is extraordinarily intelligent would be a tremendous understatement. Even though she is shy to the point of occasional social paralysis, Talitha is frighteningly sharp and analytical. She often carries one or more books around with her, and looks for any opportunity to find a secluded place where she can read and study.
Talitha's reading comprehension is incredible. She absorbs information effortlessly and has graduate-level skills in philology, linguistics and ancient cultures. She can read and write Latin and French and she has a particular interest in ancient Egyptian history. She is often frustrated by the lack of challenge available to her in even the advanced classes at Tree Shores High School, and she looks forward to attending university as soon as she can.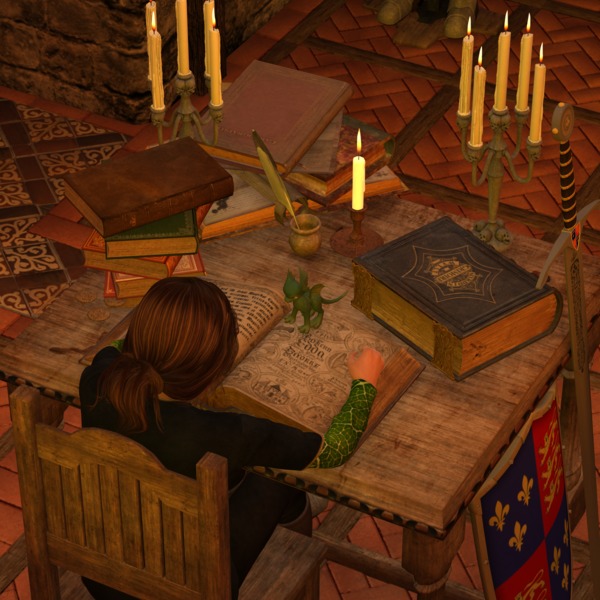 Ironically enough, it is Jessica that helps Talitha become the team's intellectual powerhouse. Once she is confronted by someone with Jessica's exuberance and boundless energy, Talitha quickly learns to adapt her formerly regimented thinking to the more random and fun-loving approach of her new best friend. The two become inseparable at once, and form the exploratory/investigative "battery" at the core of the Ajan Warriors. Jessica comes up with ten new ideas, Talitha picks the one that makes the most sense.
All of Talitha's warrior powers are geared to defense and healing. Legend has it her relic Trueblossom is made of heartwood and is an aspect of the first tree to grow in Goldenwood. In both shield and ring form, Trueblossom is literally alive and emanates life-giving energy at all times. This gives Talitha a wide variety of powerful healing spells in addition to a weapon that is impenetrable by magic or blade. Like Dawnsong, Trueblossom cannot be broken by any known force.
Talitha has the ability to communicate with plants, trees and flowers on a primal level. Her sensitivity isn't telepathy, nor can she "talk" to plants. Her intuitive contact with living things is on a more primordial level. That said, if the Forest Warrior is challenged, all living plants nearby will come to her defense. This can be catastrophic for her enemies if she happens to be in a forest or jungle.
In addition to her abilities to communicate with forests, Talitha can also sense and communicate with nearby insect populations, including especially bees, ladybugs, ants, crickets and moths. Jessica isn't thrilled with Talitha's affinity for bugs.
In battle, Talitha will always be found near Jessica, as the two form a symbiotic source of healing and blessings that turns the rest of the warrior team into a more powerful fighting force. More offensively-minded warriors like Ranko, Shannon and Alanna are well aware of Talitha's ultimate value in any dangerous situation, and they will do whatever is necessary to protect her. Unlike Jessica's quicker magic, Talitha's healing powers are capable of treating devastating injuries. The Forest Warrior can also neutralize any natural poison, an ability that is similar to Jessica's power to cure disease. This makes Talitha immune to poison or other natural toxins like snake or insect venom.
The closest Talitha gets to "attacking" an enemy is through the use of her Shelter Blooms. The device on her shield Trueblossom is capable of shifting to different forms. When it is a cinder blossom, for example, any weapon or spell that strikes Talitha's shield will cause a cloud of fiery spores to explode in all directions. Cinder spores have been described as a combination of hot peppers, tabasco sauce, little biting insects and burning embers all at once. They can incapacitate an enemy creature for several minutes depending on how close they get. Other shelter blooms like the Haya Flower can corrode metal weapons, while the sap of the Viperbark Tree can paralyze living creatures.
Leafy
Talitha's pet Leafy is one of the species in Varcarel and surrounding regions known as "Littlekin." Fairies, intelligent insects, animated plants and flowers and other mischievous creatures make up other kinds of Littlekin communities. They are all of magical origin, and share a wide variety of powers aligned to forests and places with natural energy. Leafy is an orchid dragon who shares many of the characteristics of Littlekin and yet is also a true dragon with all the additional characteristics of those mythical beasts.
It isn't quite known why Leafy decided to join Talitha, but so far he has proven to be a reliable source of early warnings when danger approaches. Leafy flies much like a hummingbird, and when he is airborne his wings give off a pastel-colored glow. Talitha has invested considerable time trying to learn what all the colors mean. So far she has identified green as "content" and red as "danger." She and Jessica are still working on figuring out the others.